NOVA RPCV & RPCV/W Hikes have planned a Fall hike at Great Falls National Park (9200 Old Dominion Drive, McLean, VA 22102) on Saturday, October 23rd 2:00-4:00pm. Come join us for a hike along the Potomac River.
Located just south of Riverbend State Park in Virginia, Great Falls National Park is located along the Potomac River. We will meet at 2:00pm at the picnic area which is just to the right after passing through the Entrance Station.
If you have any questions ahead of time you can email NOVARPCV@gmail.com; if you have any problem locating us on the day of the hike call (703) 473-8660 . You may invite friends and family to come along. Due to COVID-19 and safety precautions with social distancing we may limit the number of participants.
After a brief break at a falls overlook we will head back along the same trail to the beginning point. Total distance will be about 4 miles. Overall the trail should be relatively flat. Wear comfortable shoes and you may want to pack water and a light snack.
Please register so we know who and how many to expect.
To register click on the Attending button at the top of this announcement.
Planned loop: https://www.alltrails.com/explore/map/map-a01a038--2
See pictures and maps at https://www.nps.gov/grfa/planyourvisit/basicinfo.htm
There is an entrance fee to enter the park:
$20 single vehicle including all passengers
$10 individual permit on foot or bicycle
You can check online at: https://www.nps.gov/grfa/planyourvisit/fees.htm for more information.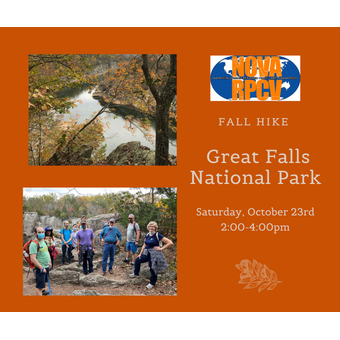 Great Falls Park Picnic Area 9200 Old Dominion Dr., McLean VA 22102