Join NOVA RPCV and RPCV/W Hikes for our annual fall hike at Great Falls National Park (9200 Old Dominion Drive, McLean, VA 22102) on Sunday, October 30th 10:30am-12:30pm. Ezra Casteel and Elaine Staab will be hosting the hike. Come join us for a beautiful hike along the Potomac River.
Great Falls National Park is centrally located just off of 495 and along the Potomac River. We will meet for the hike at 10:30am which will give RPCV/W members time to travel from DC. Look for us at the picnic area on your right just after passing under the Entrance Station.
Total distance of the hike will be about 3 miles. The beautiful fall color should be at it's peak by this time. We will pass along the overlooks at the falls and then circle back on a trail through the woods. Overall the trail should be relatively flat. Wear comfortable shoes and bring water as needed.
After the hike you are welcome to stay and join us for a drink or lunch nearby at Old Brogue Irish Pub (760 Walker Rd, Great Falls, VA 22066). We will sit outside and have a reservation under the name Peace Corps Volunteers for 1:00pm.
Please register so we know who and how many to expect for the hike.
If you have any questions before the hike you can email novarpcv@gmail.com
If you have an emergency or have trouble locating us on the day of the event you can call (703) 473-8660.

To register click on the Attending button at the top of this announcement.
Planned loop: https://www.alltrails.com/explore/map/map-a01a038--2
See pictures and maps at https://www.nps.gov/grfa/planyourvisit/basicinfo.htm
There is an entrance fee to enter the park:
$20 single vehicle including all passengers
$10 individual permit on foot or bicycle
You can check online at: https://www.nps.gov/grfa/planyourvisit/fees.htm for more information.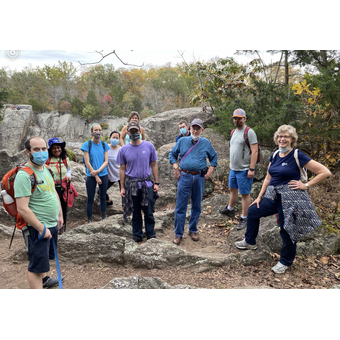 Great Falls Park Picnic Area 9200 Old Dominion Dr., McLean VA 22102