Since many expressed interest in the previous bike ride and it had to be canceled due to the rain and mud, NOVA RPCV has planned another biking event on Saturday, June 12th from 10am-1:00pm. This biking event will take place on the paved W & OD Trail from Leesburg to Purcellville (approx. 12 miles each way). We will meet at the intersection of the W & OD and Harrison St. SE in Leesburg at 10:00am. There is a public parking lot right next to this intersection and the bike trail.
All levels of bikers are welcome to join. It is a beautiful bike ride through Loudoun County from Leesburg to Purcellville. There will be some hills but the trail is a smooth paved trail. Those who do not want to bike the full round trip can consider having someone pick them up at the trail end in Purcellville. If you would like to pack a lunch or light snack, we will break for lunch in Purcellville at a picnic area. The group can also consider stopping at a brewery in Leesburg after the bike ride.
Since the bike ride is on a paved trail, This event will continue if there are a few rain showers as long as it is not an all day wash out. Participants might want to consider bringing a light rain jacket or a change of clothes since the weather is sometimes unpredictable.
If you have any questions ahead of time you can email NOVARPCV@gmail.com; if you have any problem locating us on the day of the bike ride you can call (703) 473-8660 .
You may also invite friends and family to come along but please register them as well so we know how many to expect. You do not need to be a member to sign up. To register click on the Attending button at the top of this announcement.
Hope to see everyone on their bikes soon!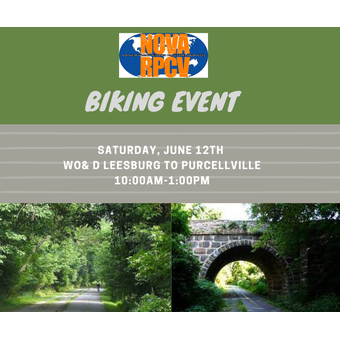 Intersection of W& OD and Harrison St., SE, Leesburg, VA 20175